Certification in Reflexotherapy.
i have completed training alongside the amazing Hanne's Marquette!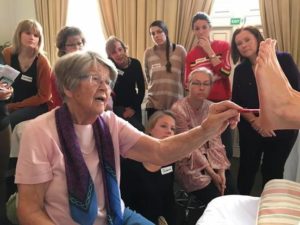 Hanne's principles focus on not only the client but also the Reflexotherapist. These amazing techniques focused on ensuring the therapist is comfortable and nurtured too. Many Reflexologists develop carpel tunnel as a result of their hard work on treating others, but with Hanne's teachings they focused on protecting and healing the therapist as well as the client. Reflexotherapy heals both the therapist and the client simultaneously and has added greatly to my healing treatments. within this course
I've learned advanced techniques as follows….
5 Grips to harmonize and stabilize the Autonomous Nervous System (ANS)
RTF treatment of scars, special consideration of emotional reactions
Application of the special RTF balm for support and harmonization of the ANS
detailed zones of the face and their treatment connections,
techniques of treating the lymphatic systems,
connections between reflex zones and meridians
treatments of zones of sphincter valves for stabilising the ANS
tooth connections,
patients with knee problems.
This wonderful course was a once is a lifetime opportunity and to train alongside Hanne Marquardt, the founder of Reflexotherapy was an honour, I have been left even more inspired in my chosen field of work by this amazing lady.
The name of Hanne Marquardt will be well known to you if you have studied the history of Reflexology and its key figures! Hanne Marquardt studied with "The Mother of Reflexology", Eunice Ingham in the late 1950's. Previously to meeting Eunice, Hanne had spent nine years studying her work. Since then she has spent a lifetime refining and developing Reflexology and made some crucial adaptations changing the name of what she practiced and taught to Reflexotherapy.
Hanne Marquardt now lives in the Black Forest in Germany and has trained over 30,000 people. Due to her own medical training, she has taught those with a medical-therapeutic background and also validated and researched her findings with her own patients.
I've also attended a Visual Reflexology course and have a Certification in Visual Reflexology
These Visual skills help us as reflexologists to read the visual clues that the feet give us. This addition to my many skills has helped my progression in the development of my natural visual skills which i have now incorporated into my practice. It has really helped me to focus on gaining maximum information from the feet before even touching them.